Macon East Academy —
Student and Campus Life
Macon East Academy believes that every child has the potential to be a leader, educator, community-builder, entrepreneur, and steward. Beginning in pre-school and continuing through high school, every aspect of the Macon East experience is designed to inspire each child to explore the full extent of his or her abilities. Using a whole-child approach, Macon East Academy offers a challenging college-preparatory academic curriculum and a growing array of athletic programs, and club activities. Our team of educators bring the learning to life by providing context and meaning at every turn. These professionals provide students with the individual attention they need as they begin to take responsibility for their own learning. Macon East believes that the best schools have a "small-town" feel where love, honesty, integrity, and gratitude are the qualities most admired.
Macon East Academy is a college-preparatory, K3-12 school that prides itself on academic rigor, lasting relationships, and both curricular and extracurricular opportunities that nurture students' individual needs and interests.
In the effort to provide one of the best independent school educations available, we continually review and improve upon our curricular standards.
THE LOWER SCHOOL
The K3-Kindergarten experience at Macon East Academy is an exciting time in the life of a child. As children learn to navigate their world during these formative years, our program seeks to provide a safe learning environment which emphasizes the cognitive, social, emotional, and physical growth of each child. The rich and engaging curriculum provides learning opportunities and activities for students to become independent, self-confident learners.
In the elementary portion of the Lower School, students (Grade 1-6) develop a solid foundation in Language Arts, Mathematics, Reading, Science, and Social Studies. Instruction in Art, Music, Physical Education, Spanish, and Technology, as well as individual and class projects further motivate and stimulate the students. The curriculum incorporates creative activities including musical performances, a series of developmentally appropriate activities, blending skill-building, motor development, problem solving, and reasoning skills.
THE UPPER SCHOOL
Grades 7-9 marks a time of great transition and change for children. Emerging from childhood and entering adolescence, the student begins to think critically and to explore new ideas. Macon East Academy embraces a child-centered strategy where school is a place of discovery and exploration. A challenging academic curriculum provides students with innumerable opportunities for personal growth and success. Students learn through a variety of activities: hands-on experiments, group interaction, reading and writing workshops, research, and debate. Fine arts and physical education classes are an integral part of the curriculum for each child.
Grades 10-12 at Macon East Academy is a place where our motto, "Everything A School Should Be", is realized. Students strive for their personal best through involvement in the three pillars of Macon East Academy: academics, achievement and athletics.
Macon East Academy is a college preparatory school committed to providing students with a safe, nurturing environment that promotes academic achievement, patriotism, and belief in God through Christian values.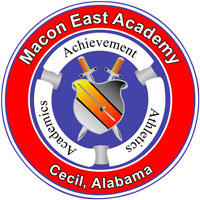 Let the words of my mouth and the meditation of my heart,
be acceptable in Thy sight. 0 Lord, my strength, and my redeemer.
Psalm 19:14
Macon East Academy —
by the numbers
Enrollment Profile
K3 & K4 — up to 16 students in each classroom
Kindergarten – 6th Grade — up to 20 students in each classroom
7th – 12th Grade — up to 25 students in each classroom
Championship Athletic Tradition
18 Interscholastic Competitive Teams
18 State Championships
32 Region/Area Championships
Facilities
5 Academic Buildings
2 Science Laboratories
2 Media Centers/Libraries
2 Technology Centers
2 Visual Arts Room
Musical Performance Room
Performing Arts Center
Full Service Cafeteria
Athletics Facilities including Gymnasium, Football, Baseball, & Softball Fields
2 Athletic Dressing Facilities
Strength & Conditioning Facilities
Accreditation
Southern Association of Colleges and Schools
Alabama Independent Schools Association
Alabama Association of Independent Schools
National Council of Private School Accreditation
Academic Excellence
100% College Acceptance of Graduates
Accelerated Curriculum in Lower School
College Prep, Honors, and Advanced Placement Courses
Dual Enrollment offered for 11th & 12th grade students
Enrichment in Fine Arts and Foreign Language
Student Leadership and Civic Service Opportunities
NONDISCRIMINATORY POLICY: Macon East Academy admits students of any race, color, national or ethnic origin to all the rights, privileges, programs and activities generally accorded or made available to students at this school. It does not discriminate on the basis of race, color, national and ethnic origin in administration of its educational.