The Macon East Academy chapter of the National Honor Society held its annual induction ceremony on Thursday, October 29. Thirteen new members were inducted into the society for the 2015-2016 school year. New members receiving their certificate of accomplishment and pledging to uphold the standards of NHS were Parker Agnew, Drew Baker, Savannah Clemens, Jaycee Cook-McColllum, Katie Jo Dickey, Austin Gault, Karli Hawkins, Hannah Johnson, Susie Johnson, Amber McGuff, Travis Moody, Bryson O'Malley, and Trent Watson. Qualifications for membership in NHS include a GPA of 3.5 or higher as well as upholding the ideals of scholarship, leadership, service, and character. Serving as officers for the national honor society are seniors, Grace Allen – President, Ally Slaton – Vice President, Bailey Blaze – Secretary, and Sarah Margaret Poundstone – Treasurer.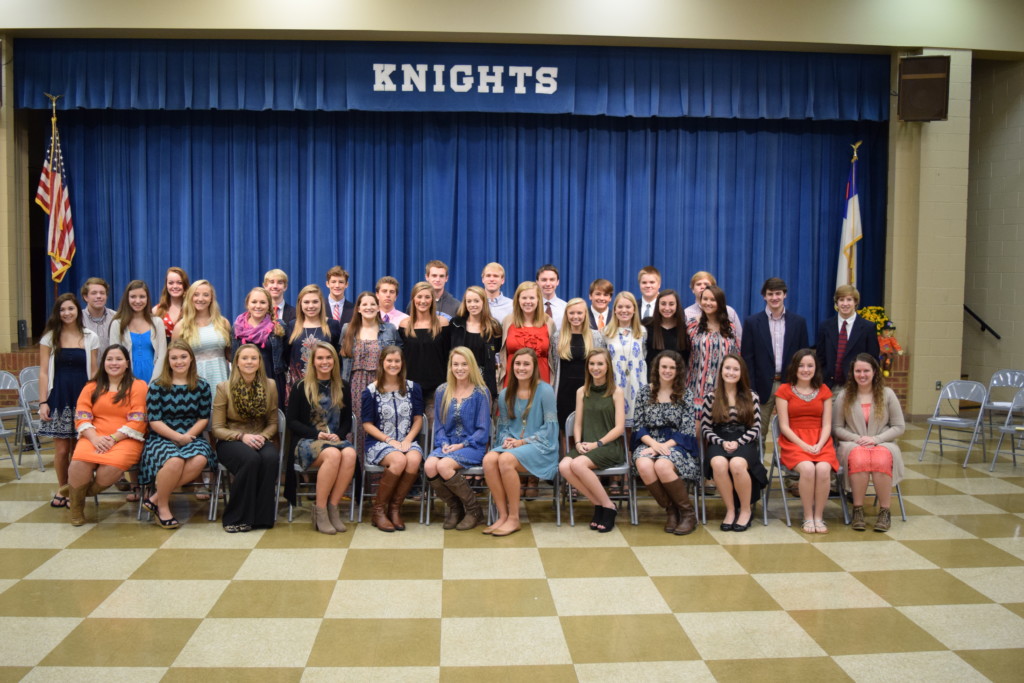 The Macon East chapter of the National Junior Honor Society recently held its annual induction ceremony. The National Junior Honor Society is a worldwide organization that consists of middle school & junior high students from around the country. Selection of members is based on five criteria: citizenship, service, leadership, scholarship and character. Each member is expected to maintain a high academic standard while being active in their community through volunteer service projects. The goal of NJHS is to recognize academic achievement and to develop the characteristics of leadership and service.
Congratulations to this year's inductees: (9th grade) Caitlyn Crawford, Annslie Gourlay, Bailey Nyberg, Anna Grace Tompkins, Sydney Weverink, Bailey Williams, Anne Auston Wright, (8th grade) Sarah Bishop, Kayla Boroff, Nick Marshall, Ally Matthews, Bradford Nickles (7th grade) Ashley Atkins, Georgia Blaze, Bellah Bright, Will Desmarais, Barrett Hammond, Harrison Hicks, Jordan Hicks, Tyler Hodges, Brianna Johnson, Katherine Kirk, Jonathan Mathis, Grace McIntosh, Makenzie Melnik, Tanner Moore, Emily Nickles, Justin Reynolds, Casie Starling, Aiden Steyer, Sara Stuckey, Lauren Taylor, Max Taylor, Kadence Ward, Caroline Williams, Mary Hunter Wright, and Stone Yarnell.