Hunt the famous Alabama Black Belt for Trophy Whitetail.
Join us for a memorable experience hunting the peak of the rut in Alabama!
What to Expect
Alabama's abundant, healthy and growing whitetail deer population allows our state to be consistently ranked in the top 5 in North America's harvest records.  Some of our hunting properties have been intensely managed for trophy bucks for years and may have trophy requirements; while others offer liberal harvest requirements and encourage the harvesting of management bucks and does.
Each year, we strive to offer each of our hunters a memorable experience that will last a lifetime.  Our annual hunt attendees range from youngsters attempting their first harvest to seasoned experts looking to add another trophy to their collection.  We offer a wide variety of hunting scenarios and have the capabilities to cater to hunters with special needs.  We have properties that specialize in archery hunts in addition to others that will accommodate long-range rifle hunters.  There is truly something for every level of hunter.
Most important, you can expect to experience southern hospitality second to none.  Our endless list of volunteers spend countless hours preparing for this annual event.  We look forward to visiting with old friends, making new acquaintances all while making certain that your experience is enjoyable.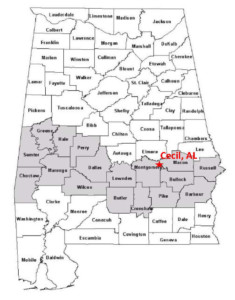 Location
Macon East Academy is located in the rural central Alabama community of Cecil, approximately 20 miles east of the capital city of Montgomery.  We are in the heart of the famed Black Belt where trophy bucks are a way of life.
This area consists of large, privately owned tracts of land that have been intensively managed for years. The large timber tracts consist of both hardwood and pines surrounded by agricultural cropland. Each year, Macon East Academy hunts these donated properties in several surrounding counties including Montgomery, Lowndes, Butler, Crenshaw, Pike, Bullock ,and Macon.
Lodging & Food
Lodging
Most of our hunters will enjoy the comforts of one of our private hunting cabins adjacent to the land you will be hunting.  Other accommodations may include guest houses, rental houses or pool houses donated by our land owners and parents for utilization during the hunt.
Every effort will be made to accommodate our hunters on or near their assigned hunting property.  We sometime use area hotels, as the need arises, and assure you that your stay will be comfortable.
***If you do not require lodging, please inquire about our special pricing offers!***
Food
Some hunters will say that the food is the favorite part of the hunt!  Lunch is provided on Saturday for those who choose to leave the woods and join us to see the morning's harvest, but our true treats are the evening dinners.  All of our wonderful volunteers serve up endless portions of our famous Southern Cuisine.
***All hunters will be provided with snacks during check-in for use as breakfast or mid-day snacks while afield***
Hunting License
Non Residents – All non-residents, 16 years of age and older are required to purchase an Alabama Hunting License.  The cost of a license for an All Game Hunt Trip, 3-Days is $131.45.
Alabama Residents – Hunting licenses are required for all residents between 16 and 65 years of age. 
Where to Buy – Hunting Licenses can be purchased online at
www.outdooralabama.com. or at your local sporting goods retailers.

2017 Rates
***All packages include lodging, food and at least 4 guided hunts***
Single Hunter Package: $900.00
Parent/Child Package: $1200.00
Make memories by bringing your youngster and hunting together.  Spouses are also welcome to share the hunting experience.
A 50% deposit is due at registration.
The remaining balance must be received no later than January 10, 2017 to maintain your reservation.
Credit cards payments can be accepted online or over the phone by calling (334)277-6566 ext. 204.
Ask about setting up a payment plan and begin planning your hunt now!
Some hunts, given as gifts may be tax deductible, and we can provide that documentation upon request, if your situation qualifies. 
***Space is limited, so don't delay registering***